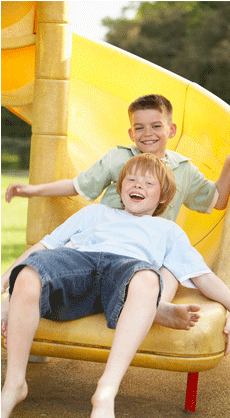 A Child - First Philosophy:
Your child's needs ALWAYS come first. We accomplish this by providing:
* An environment that is both protective and engaging.
* A highly qualified staff, trained to work with all types of children.
* Programs are structured yet have a variety of child-choice activities.
* Our activities develop self-confidence, self-reliance, creativity and problem solving skills.
* Children learn by touching, seeing, hearing, and experiencing an activity, on this knowledge our curriculums gives, children hands on, concrete, and creative activities that enhances thinking skills and problem solving.
* Positive open communication with parents is to provide consistency in your child's education

What Sets Our Centers Apart?
* Locally owned and operated (keeping the personal touch in every location).
* Affordability, Convenience.
* Hours designed for busy working families (6:00am – 6:30 pm).
* Open during school holidays: Except Christmas Day, Thanksgiving Day, Labor Day, Memorial Day, July 4th, New Year's Day. (If the holiday falls on a Saturday will be closed Friday, if it falls on a Sunday will be closed on Monday).
* Summer Camp (Monday–Friday 6:00 am – 6:30 pm) Contract your local center for starting and ending dates.
* Diversity designed into every program (programs are never repetitive).
* Six Weeks through Twelve years of age.
* Daily Director Involvement.

A Staff You Can Trust:
* Highly-motivated and interactive.
* CPR & first aid certified.
* Required to maintain 20 hours of mandatory training yearly.
* Trained to work with all ages of children and understand age-appropriate behavior.
* Understand the program clearly and are expected to meet high standards.
* Pre-service training that exceeds requirements by the state licensing board.

Department of Family and Protective Services
http://www.dfps.state.tx.us/